Gov. Jared Polis on Tuesday signed a bill into law that provides nearly $9 million in funding for Front Range Passenger Rail planning and development.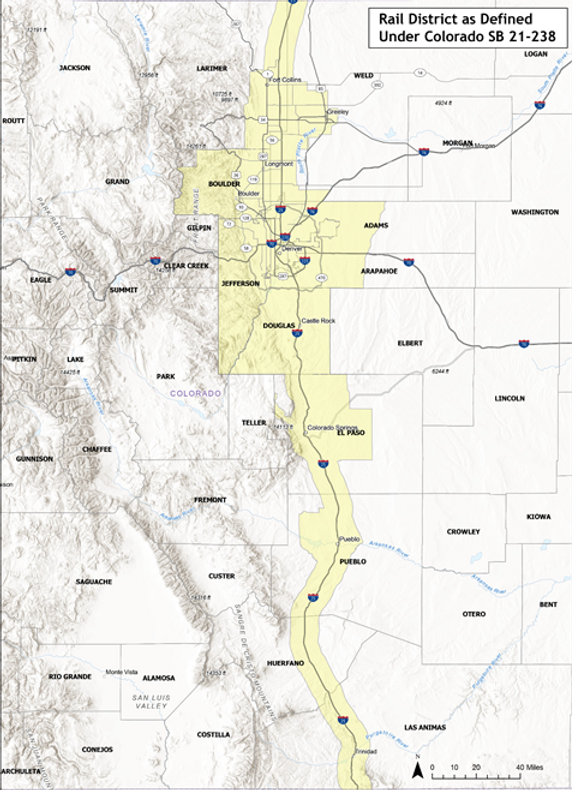 The plan calls for a rail system along the Interstate 25 corridor from Trinidad to Fort Collins that would connect with Amtrak's Southwest Chief cross-country rail line. It may, in the future, be extended into Wyoming and New Mexico.
The state legislature created the Front Range Passenger Rail Commission in 2017 to study the idea.
Last year, Polis signed Senate Bill 21-238, creating the Front Range Passenger Rail District, which is tasked with building and running an interconnected passenger rail system along the Front Range.
"We are saving Coloradans money, fighting for clean air, and reducing drive time for Coloradans, which is why I am thrilled to make passenger rail for the Front Range of Colorado one step closer to becoming a reality today," Polis said in a statement.
The district is an independent political subdivision of the state is not subject to administrative direction by any state agency.
It can levy taxes, subject to voter approval under the Taxpayer Bill of Rights, and can exercise eminent domain to take private property for the project. It can create station area improvement districts within a two-mile radius of a station that can be taxed at a higher rate because they "will be especially benefited" by the train station. The district is also exempt from all state and local taxes.
The Front Range Passenger Rail project is not without its detractors.
"I hear projections that it would be maybe six to twelve billion dollars, a huge amount of time, and then it would lose money every single year," El Paso County Commissioner Stan VanderWerf said in an interview in May 2021. "So, we have a huge initial investment, and then we would have taxpayer investment yearly to keep it functioning. It really doesn't make any sense when you can take advantage of other forms of transportation that use the highways."
The commission's 2020 Service Development Plan estimates the capital costs for a full build out of the railroad at $7.8 billion to $14.2 billion, with annual operating costs estimated at $120 million to $188 million. The system would serve an estimated 4,800 to 8,900 weekday riders.
By comparison, the average weekday commuter traffic on I-25 between Colorado Springs and Denver, measured north of Larkspur, averages 66,000 vehicles per day and rises to 160,000 vehicles per day at Castle Pines, according to the Colorado Department of Transportation.
According to the 2019 U.S. Census Bureau American Community Survey, of the 3 million workers in the Denver metro area, only 3.2% used any form of public transit while 74.2% of workers drove their own cars.
The bill includes funding for development planning, conceptual design work, analysis of impacts to surrounding communities and stakeholder engagement related to moving the existing rail line, rail district operations and development of the existing Union Pacific Burnham railroad yard south of I-70 and north of the RiNo Art District between Brighton Boulevard and York Street in Denver.
It's unclear what might happen if taxpayers in Denver and Broomfield, Adams, Arapahoe, Boulder, Douglas, Huerfano, Jefferson, Larimer, Las Animas, Pueblo and Weld counties refuse to approve the taxes the district proposes. 
https://denvergazette.com/news/transportation/polis-signs-funding-bill-for-front-range-passenger-rail-project/article_47e73a9a-e695-11ec-9de0-f7dffb33b3bc.html