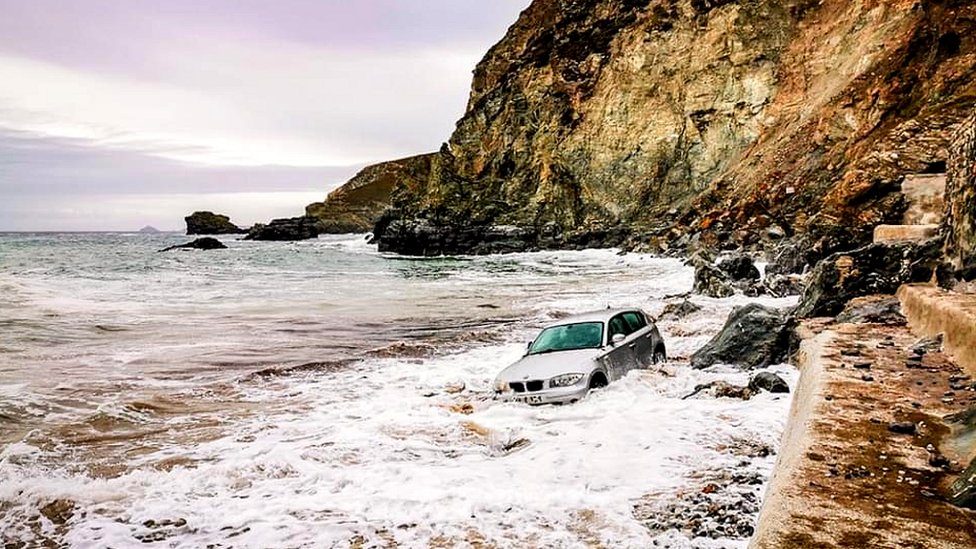 A car has been pictured being washed around in the surf on a Cornish beach.
The silver BMW was seen crashing in the waves at Trevaunance Cove in St Agnes at about 06:00 BST.
It was towed away by a breakdown recovery driver a few hours later, who said "it was floating around like a boat" when he arrived.
The car, which is now a write-off, belongs to a man from Falmouth, and was "full of seaweed", the recovery driver said.
The owner of the beach, Steve Blundson, was walking his dogs when he saw the car, checked there was nobody inside and called the police.
A little later the owner turned up with two other men and explained that the car had got stuck at the bottom of the slipway during a manoeuvre to try to turn it around.
Mr Blundson said: "They phoned the recovery guys at about 04:30 but by the time they turned up it was trying to be amphibious."
He added: "It's not the first time this has happened. It's not a regular occurrence but it does happen once a decade, so it's a 10-year event."
Georgina Neve, who is a waitress at Schooner's restaurant overlooking the beach, said: "I've never seen a car in the sea like that here before.
"It's a very steep hill to the beach and obvious you shouldn't go down it or park there. It's quite funny really – hopefully their insurance will cover it."